One of the best ways to start playing the Pokemon Trading Card Game right away is to buy a pre-made deck. They have everything you need to play right away without having to worry about the deck-building part, which can be overwhelming for new players.
Odds are, when you go to the store, you will see pre-made decks in many different formats. What's the difference between each one? Let's run through the major formats to help you decide which to pick up!
(NOTE: All pre-made decks come with online codes that allow you to directly import them for use in Pokemon Trading Card Game Online. That said, their eligibility across different competitive formats will vary. At the very least, everything should be eligible for use in the Unlimited format.)
What are Theme Decks?
Theme decks have been a staple of the Pokemon Trading Card Game since its inception. During the launch of a new set, a handful of new decks will be released alongside. These theme decks use cards from that set and are usually designed around a particular Pokemon. Every deck also comes with one holo card, though not the full-art holo cards that are all the rage these days. I own pre-made decks featuring Zacian, Groudon, Rillaboom, and Lugia. Within Pokemon TCG Online, I own every Sword & Shield era deck, as well as the Groudon and Lugia decks that I bought IRL.
The biggest thing to note here is that theme decks have been discontinued. What you see on store shelves now is the last run of theme decks, as they've been replaced by V Battle decks.
PROS
Usually the cheapest of the pre-made deck options available
Oftentimes readily available in stores for reasons we'll get to momentarily
Eligible for use in the Theme matchmaking mode within Pokemon TCG Online after redeeming the code that comes with the physical deck
Tons of different decks have been made in this format, though availability will vary wildly
While theme decks can't be directly used in Standard or Expanded matchmaking, you can make a duplicate of a theme deck and use it in other formats, assuming the cards within are eligible for use in Standard or Expanded play. The in-game deck builder does a great job of showing you which cards are excluded from specific formats, allowing you to tweak as needed.
CONS
Weakest option in terms of competitive-viability relative to the other pre-made options in this post
No real collector value to these sets, as every card in a pre-made deck were available through booster packs
Won't be available forever. Since this line is discontinued, these will eventually disappear completely. For those who play Pokemon TCG Online, these decks will likely remain unlockable with in-game credit for the foreseeable future.
Due to their age, most of the cards in these decks aren't eligible for use in the Standard format of competitive play at IRL events or online
Unlike the V Battle bundles, you'll need to buy two separate decks if you want to play with a friend who doesn't have their own deck. If you do, make note of the type advantage between decks, as one might have type advantage over another. Unless, of course, you want an imbalanced match.
What are V Battle decks?
V Battle decks are replacing the traditional theme deck format. These decks are not connected to the launch of a new set. They also have perks that immediately make these more desirable than the standard theme deck. I started my Pokemon TCG journey with the Venusaur vs. Blastoise set.
PROS
Contain one V Battle card per deck. These cards are quite powerful and give you a bit more of a fighting chance.
Some of the cards in the V Battle sets are exclusive to these decks, making them a bit more desirable for collectors. That said, V Battle decks seem to be readily available for purchase.
V Battle decks are sold individually and in two-deck bundles that come with extra Trainer cards that are stronger than the ones that come with each deck
As of writing, all of these decks are eligible for use in the Standard format of competitive play at IRL events or online. Refer to the official rulings from the Pokemon Company on what cards are eligible.
CONS
Still not the strongest option for competitive viability
Bit more expensive than Theme Decks
As of writing, only four V Battle decks exist: Venusaur, Blastoise, Victini, and Gardevoir. This will resolve itself over time as more are released, but your options are limited at the moment. Coming a bit later this year are V Battle decks built around Rayquaza V and Noivern V.
Online versions of V Battle decks are ineligible for use in Theme matchmaking within Pokemon TGC Online due to the inclusion of a V Basic card in each deck. Without access to the Theme matchmaking option (which is fantastic for newer players), you and your V Battle deck will have to fend off the fierce competition in Standard play.
What are League Battle decks?
League Battle decks are designed with serious play in mind. I have the Inteleon League Battle deck and can attest to it being a strong deck. These decks feature cards that are more powerful than those in the other sets due to the cards within, though that extra punching power comes at a cost.
PROS
The most competitively-viable deck option out-of-the-box
Come with a larger quantity of GX/V/VMax cards, depending on which set you get
Some League Battle decks are sold in sets of two, allowing you and a friend to engage in high-level play right away
Some variations of cards are exclusive to these decks, making them a bit more of a collector's item. That said, these are fairly available based on my anecdotal findings.
May include other goodies such as damage dice and status tokens. Check the product description of each set for exact contents.
CONS
Most expensive option based on MSRP. Actual retail prices can be much higher depending on the retailer. Please shop around to find a reasonable price.
If you are new to the game, it may be harder to learn the game while using more complex cards that are often found in League Battle decks.
Some of the older League Battle sets still in circulation are based on cards from the Pokemon Sun & Moon era. Starting on September 10, 2021, these older sets will not be eligible for use in the Standard format of IRL events or online. Refer to the official rulings from the Pokemon Company on what cards are eligible.
Ineligible for use in Theme matchmaking as part of Pokemon TGC Online. League Battle decks will fare much better in Standard matchmaking, but new players may not have the experience to get the most out of these decks against stiff online competition.
What are Trainer Kits?
Trainer Kits are distinct from the other options available, as they're specially-designed around a half-deck format. Using two 30-card decks and a modified ruleset with only three prize cards instead of six, these sets are meant more as training wheels for the real thing.
PROS
Cheapest way for two players to play together
Potentially the best way for kids to learn thanks to the smaller decks and additional tutorial materials
CONS
Played with two half-decks and a modified ruleset that make it somewhat incompatible to the main game. In theory, you could mix the two decks to form one deck, but the competitive-viability of a Frankenstein Trainer Kit deck is questionable at best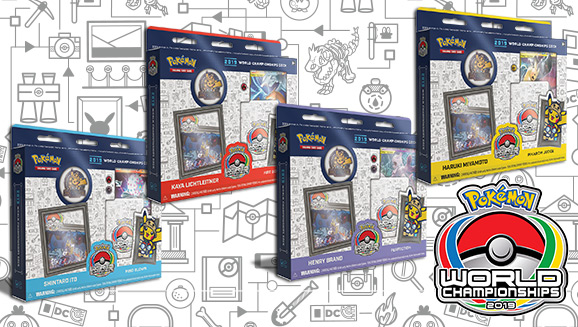 What are World Championships Decks?
World Championships decks are recreations of decks used by actual world champion Pokemon TCG players. While it seems very cost-efficient to simply buy one of these and think you're going to dominate, the reality isn't quite as simple.
PROS
Allow you to play with a championship-level deck casually with your friends
Comes with a collector's pin
Comes with a book with photos and stories from that year's championships
CONS
Not eligible in any sort of official competitive format IRL or online. Even the card backing is different to clearly denote that these cards aren't to be used in an official capacity
Hardest way to learn the game, as these decks are designed to be played in a very specific way
Since these are recreations of championship cards, there are no holo versions of cards that would normally be holo. There's basically no collector value to these sets
One more pre-made deck option
The Pokemon Trading Card Game Battle Academy is meant to be a standalone board game designed to teach newcomers how to play the game. However, it does come with three pre-made decks starring Raichu GX, Charizard GX, and Mewtwo GX.
PROS
Oftentimes, Battle Academy is the best cost-per-deck value proposition out there. In some cases, you can get this whole set of three decks and everything you need to start for the price of one V Battle deck!
The inclusion of GX cards gives them a bit more punching power compared to a standard theme deck
These themed decks are designed to be used by newcomers with simple tools to fight with
If you're brand new to the game, this is the best place to start playing IRL
These decks are eligible for use in Pokemon TGC Online Expanded matchmaking
CONS
Not the most viable option in terms of competitive play. These decks sit somewhere between a theme deck and a V Battle deck in terms of competitiveness.
Since these decks are comprised of cards from the Sun & Moon era, some of these cards are ineligible to use in the Standard format IRL or online while the remainder will fall out of the Standard format on September 10th, 2021. Refer to the official rulings from the Pokemon Company on what cards are eligible.
---
Need more info? Check out my video on the matter too!
---
Buy the Pokemon TCG Battle Academy Now From Amazon.com
[Purchasing through this Amazon affiliate link gives me a small commission without adding any extra cost or effort to you. Thanks for your support!]