The fastest way to get into playing the Pokemon Trading Card Game is by purchasing a pre-made deck or a product containing pre-made decks. Within minutes, you can be playing the game without dealing with any of the hassle that comes with collecting cards or building a deck. Granted, I have grown to love the experience of deck-building, but you can worry about that much later in your Pokemon Trading Card Game journey. If you're ready to play, pick up a pre-made deck and have some fun!
But which one should you get? As a guide, products with pre-built decks feature a three-point "Play Level" scale. Let's cover what each level means so that you can make invest in the decks that are right for you!
Play Level 1: Beginner-Friendly
If you're brand new to the game or are looking to introduce children to it, Play Level 1 products are the way to go. These products contain decks that are designed to ease newcomers into the game. Each of the three decks only comes with one Pokemon V card, which is essentially a more powerful version of a Pokemon.
Not only that, but all of these products at every Play Level come with codes that allow you to use digital versions of these decks in Pokemon Trading Card Game Online or Pokemon Trading Card Game Live. Keep that in mind when considering which products to get. Personally, if you're going to play online against random opponents, you may want to jump straight to Play Level 2 or 3, but let's get back to Level 1.
My favourite products at this level is Pokemon Battle Academy. This box is structured like a board game, featuring a board, a comprehensive rule book and tutorial that will guide you through your first few turns, and three decks that you and a friend can battle with.
The one you'll most likely find on store shelves these days features Pikachu and Cinderace battling each other on the cover. The older version of this set may still be floating around in some stores and features Pikachu battling Charizard on the cover. Either will suit you well as an introductory product. However, the Pikachu and Charizard box features GX cards instead of V cards, which have since rotated out of the standard tournament format. You may not have any plans of competing in the world championships anytime soon, but if you have ambitions of buying more modern products such as V Battle Decks, League Battle Decks, or building your own decks with modern cards, you'll want the new set so you can learn with V cards instead of GX cards.
You could also opt for the V Battle decks. These are sold individually, or in a bundle with two. My wife and I introduced ourselves to the game by buying the Venusaur V and Blastoise V bundle. You don't get the board or comprehensive rules that the Battle Academy set provides, but these are viable starting products as well.
Regardless of which Level 1 product(s) you buy, all of these are worthy investments for new players. After you try one, you may want to buy other Level 1 products to expand on that beginner-friendly experience. You may never see the need to try Level 2 or Level 3 products, which is okay too!
But if you find yourself wanting to play more seriously, these decks have a very low competitive ceiling and you can't adapt these decks without basically throwing everything out. If you hit that point, your best bet is to move off the Level 1 training wheels and invest in a higher level product.
Level 2: Time to Get Serious
Level 2 products are great for players who have a bit of experience playing the Pokemon Trading Card Game and want something more competitively-viable. You are getting stronger decks, but these decks will have a steeper learning curve compared to those in Level 1. Not impossible to start at Level 2, but know you're jumping into the fast lane with a Level 2 product.
As of writing, the only product line that is classified as Level 2 are some of the League Battle Decks. This is actually important to note, as League Battle Decks will vary from Level 2 to Level 3, depending on which one you get.
Each League Battle Deck box contains one 60-card deck. Unlike V Battle Decks, these ones come with two Pokemon V and two Pokemon VMAX, which immediately make them stronger than Level 1 decks. Not only that, but the V and VMAX cards these decks are built around are oftentimes some of the best in the game. As of right now, the latest round of Level 2 decks feature Single Strike Urshifu and Rapid Strike Urshifu, both of which are some of the strongest Pokemon in the game at the moment.
Furthermore, Level 2 decks come with a healthy dose of support Pokemon and great trainer cards. Oftentimes, you can mix-and-match cards between Level 2 decks and probably Level 3 decks to build a tournament-ready deck.
Without making any adjustments to these decks, you will get a good feel for what higher-level play is like while also having the foundation for a tournament-level deck. Since they are not the highest level, they are missing a few key cards from being top-tier. Each deck will vary on how close they are to being their top-tier equivalents, but all of them can reach that level if you have the know-how and the resources to grab the handful of cards needed.
Thankfully, there are lists online that show you exactly which cards you need to upgrade them. Heck, if you're getting either Urshifu deck (which I highly recommend), my videos above show both of them in action out of the box, as well as how to upgrade both to be tournament-level!
As of writing, Play Level 2 products include the Single Strike Urshifu League Battle Deck, Rapid Strike Urshifu League Battle Deck, Inteleon League Battle Deck, and Zacian League Battle Deck. I have purchased all of these because they're the easiest way of getting these decks at a near tournament level.
Of these four, I would recommend both of the Urshifu decks. Single Strike version is a bit closer to being complete, while the Rapid Strike version has a higher tournament viability ceiling if you build it to completion. The others are good, but both are rotating out of tournament rotation later this year. If that's not an issue for you, feel free to grab those as well!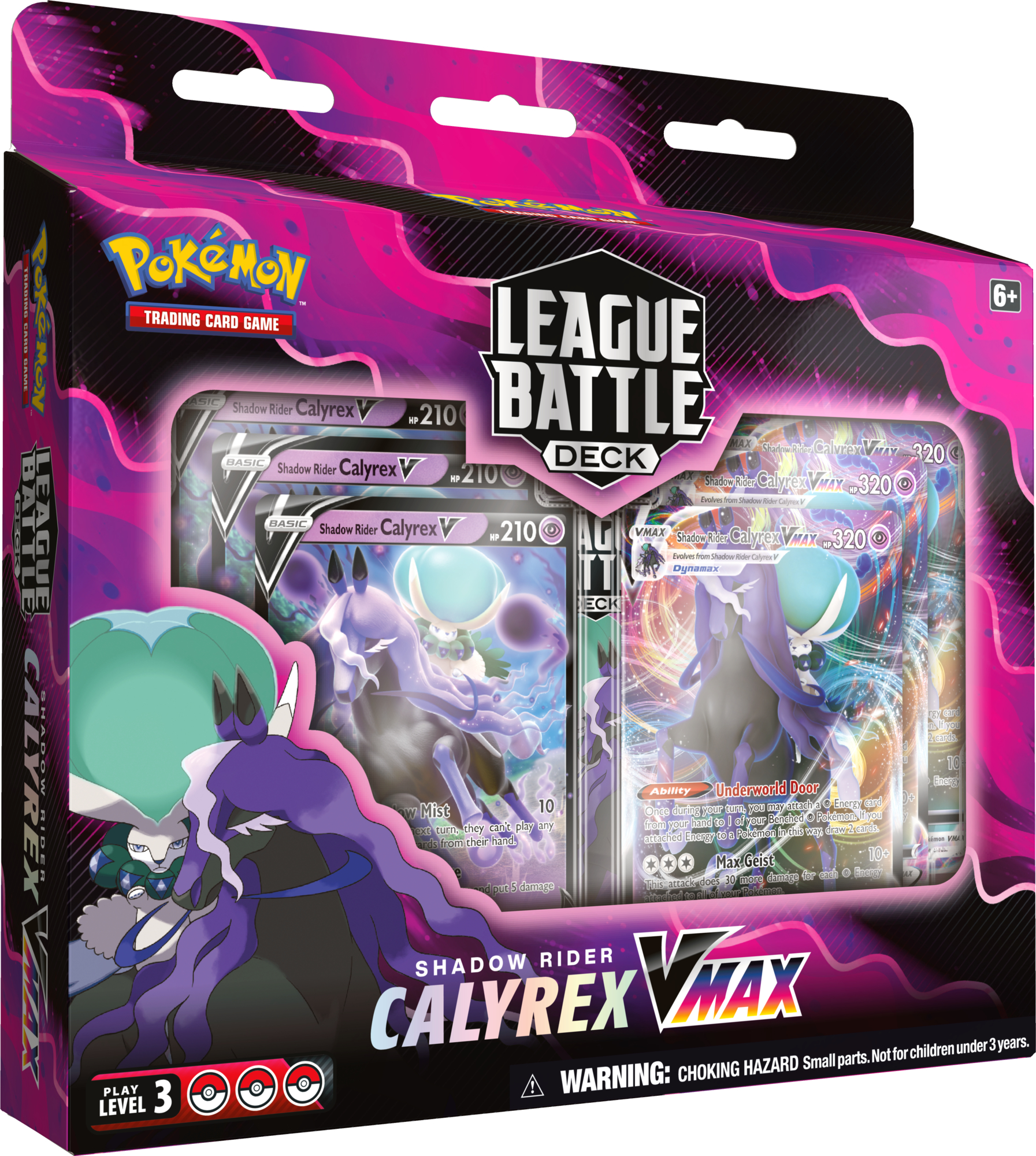 Level 3: Tournament Ready
As of writing, Level 3 products aren't set for release until the summer of 2022. However, based on the product shots alone, we know enough to see the jump between Play Level 2 and 3. These decks are essentially tournament-ready as is, which is fantastic for experienced players, but may be too difficult for kids or complete newcomers to handle as their first deck.
Part of what makes these upcoming decks worthy of their Play Level 3 classification are the three Pokemon V cards and three Pokemon VMAX cards prominently featured on the box. For most tournament-level decks featuring Pokemon V, you need at least a 3:3 line of each for your main attack, which this product gives you immediately. You could easily play in a tournament with a 3:3 line of Ice Rider Calyrex no problem. Ideally, you'd have a 4:4 line of Shadow Rider Calyrex, but getting the last two cards isn't that hard, or you could finish off the deck with other Pokemon and still be ready for top-tier play.
Beyond the V and VMAX cards, the lineup of trainer cards and energy within each set is excellent. I can nitpick here-and-there, but these decks are incredibly strong out-of-the-box to the point where you can compete in a local tournament or hold your own against random competition online.
Be the very best (at any Play Level)!
For those looking to play The Pokemon Trading Card Game, there are pre-made deck options for players of all levels. There's no need to feel pressured into jumping right into Play Level 3 or never Leave Play Level 1. Use this guide to pick a starting point and begin (or continue) your Pokemon journey from here!
---
Buy the Pokemon TCG Battle Academy Now From Amazon.com
[Purchasing through this Amazon affiliate link gives me a small commission without adding any extra cost or effort to you. Thanks for your support!]