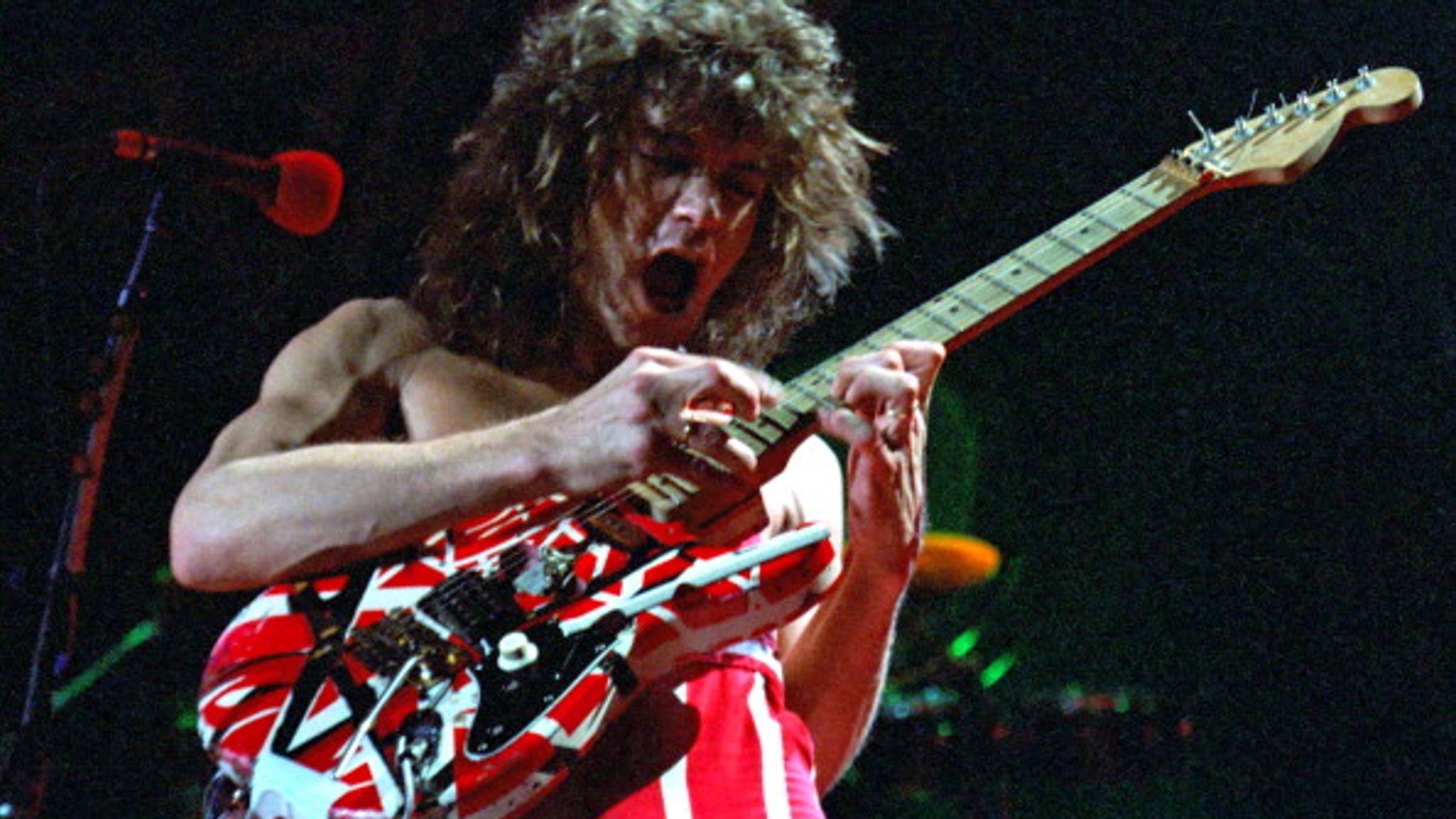 Eddie Van Halen redefined what it meant to play the guitar. He cranked out a slew of hits with his band Van Halen while bewildering everyone with his unreal finger gymnastics. Bringing this into the world of video games for a moment, almost every Rock Band or Guitar Hero song that would be classified as Expert difficulty most likely is played in the style that Eddie Van Halen created. There is no "Through the Fire and Flames" without Eddie blazing fretboards decades prior.
His passing on October 6th really hit home for me. I talked about in great detail on stream and I don't feel comfortable trying to write that out right now. Feel free to watch that segment, which includes baby Jett in diapers, rocking out to the work of Eddie Van Halen. Instead, I just wanted to take a moment to highlight a few of his works that I really enjoy. Whether you're a bigger fan than I or are completely unfamiliar with his work, I hope you enjoy this collection of music!
Eruption
Van Halen was my introduction to music. As a toddler, I was rocking out to the band's tunes while strumming on my toy tennis racquet. I also watched this one Van Halen concert tape on repeat. Of course, the highlight of the tape is this extended "Eruption" solo where Eddie absolutely shreds the guitar with his lightning fingers and masterful melody. It wouldn't be until many years later when I'd realize how insanely talented and influential he was thanks to performances like this.
Jump
"Jump" was the band's only song to reach #1 on the charts. It's also one you've probably heard even if you've never heard of the band. Unlike much of their work up to that point, its largely driven by Eddie's brilliant keyboard work. Of course, he whips out the guitar for a moment before lighting up the keys for a solo on that instrument too.
Beat It (Guitar Solo)
The story of how Eddie Van Halen became involved in the creation of Michael Jackson's "Beat It" is the stuff of legend. Though he did it in exchange for a case of beer and didn't want any credit for his work, all you needed to do was hear the guitar solo to know who played it. Also, in the midst of recording, his solo actually caused one of the studio speakers to catch on fire. Sounds about right.
You Really Got Me
Originally performed by The Kinks in 1964, "You Really Got Me" still has quite the edge to it. More than a decade later, Van Halen took the song's punch to the next level with a bevy of flourishes and a pair of guitar solos that bookend their cover.
Hot For Teacher
Admittedly, I have issues with the song's subject matter, which are only amplified by its iconic video. That's a discussion for another time. But the song itself is an absolute head-banger. The song starts at a breakneck pace with its rumbling drums before Eddie soars in with a solo. We get just a moment of reprieve before the rest of the song tears the roof off.
Dance The Night Away
Bringing the tempo down just a little bit, "Dance The Night Away" has almost a disco feel to it. This one is a fun one to sing along to, as Eddie largely keeps the theatrics aside and allows the main riff to carry most of the song. But as the song hits its softest moment, Eddie's solo twinkles before ramping things back up for the closer.
Intruder/(Oh) Pretty Woman
In modern times, the "Intruder" solo resides on a separate track from "(Oh) Pretty Woman". Which is a shame, as Eddie's grimy solo is meant to transition perfectly into their largely-straightforward cover of the Roy Orbison hit. If you're going to listen to this one, make sure you start with "Intruder" and let it roll through!
Why Can't This Be Love
By the time I was a toddler, the David Lee Roth era of Van Halen was over and the Sammy Hagar era had begun. In the video I shared on stream, it features me strumming and singing to "Why Can't This Be Love". I would go back later and discover that I much prefer the David Lee Roth era work, but some of the later stuff like "Why Can't This Be Love" still rocks in its own way. At the very least, it's songs like this that were my introduction to music.
---
This is not meant to be a comprehensive list of Van Halen bangers. Here's a few more tracks, but I hope this inspires you to dig deeper into the catalogue!
Panama
Running With the Devil
Right Now
Rest In Paradise, Eddie.
---