Shortly after my hype subsided from the announcement of the NES Classic, my immediate thought was, "What if Nintendo makes an SNES Classic?!" That system has a special spot in my heart for being a critical part of my gaming life as a 90s kid. It also doesn't hurt that the games on this console are some of the greatest of all-time.
In this 10-part series, I'll highlight three games that I would like to see in a hypothetical SNES Classic.
Part 1
Part 2
Part 3
Part 4
Part 5
Part 6
Part 7
Let's continue with part 8!
---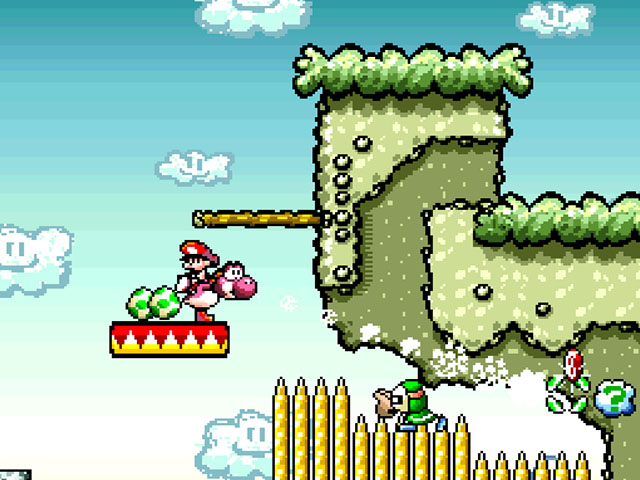 Super Mario World 2: Yoshi's Island
There's so much more to this quasi-sequel of Super Mario World than its charming art style. You get a unique platforming experience that plays to Yoshi's strengths as a character. It also features one of the best drugged-out levels ever conceived. If a real SNES Classic is ever released, this one is a shoo-in.
---
Mega Man X

The first true Mega Man reboot was not only a worthy kickstart for a franchise that had gone stale, but it might also be the overall best game in the series. With new graphics, killer music and just the right amount of gameplay tuning for modern times, Mega Man X plays like a dream.
---
Illusion of Gaia

Criminally overlooked, Illusion of Gaia is one of my all-time favourite SNES games. It's an action adventure game loosely in the vein of The Legend of Zelda that packs a great story and gameplay. If you haven't played this one before, its inclusion in a hypothetical SNES Classic could go a long way towards winning you over.
---
In summary, the games on this list so far are:
Super Mario World
F-Zero
NHL 94
Donkey Kong Country
Super Punch-Out!!
X-Men Mutant Apocalypse
Super Metroid
Street Fighter II Turbo
The Legend of Zelda: A Link to the Past
NBA Live 95
Contra 3: The Alien Wars
Super Mario All-Stars
Disney's Aladdin
Mortal Kombat II
Super Mario Kart
Super Bomberman 2
Tetris Attack
Star Fox
Teenage Mutant Ninja Turtles IV: Turtles in Time
Chrono Trigger
Super Mario World 2: Yoshi's Island
Mega Man X
Illusion of Gaia

Come back soon for part 9!
Buy the NES Classic Now From Amazon.com