The You Don't Know Jack series found a second wind with the Jackbox Party Pack. Each pack comes with a handful of party games that players control with their phones. These have worked so well in the past because they have a board game like quality to them, in that there's no twitch action involved and they're games that anyone can pick up and play.
Jackbox Party Pack 3 contains four brand new games, along with the sequel to Quiplash. It's also the first to make it on the Nintendo Switch. Is this going to be the highlight of your next party?
As with the other Jackbox games, all of the play is handled through your phone. Simply use your browser to go to jackbox.tv and enter the four-digit code to join the game. From there, the interfaces for each game are intuitive and the tutorial content does a great job of teaching players how to play.
Because the game doesn't really make use of controllers, you're going to need to adjust your console's screen burn-in settings so that the screen isn't dimming every 10 minutes. It was annoying at first, but once I figured out how to turn that off on the Switch, everything ran as intended.
I think the best way to cover the rest of this game is by going over each of the games in the package.
Quiplash 2
The sequel to Quiplash has players completing phrases in hopes of getting the most votes from their peers. Depending on your group, this can go into adult-only territory very quickly. This one definitely plays off of the Cards Against Humanity style gameplay, though having to write your own answers can be a great or horrible thing depending on the sense of humor of your fellow players.
Guesspionage
Players take part in guessing the correct percentage-based answer in ridiculous survey questions. The game uses great questions and the quasi-bidding mechanism keeps all players engaged even when it isn't their turn is great. However, the presentation of this game is a bit dull compared to the others and sometimes it's hard to believe the answers.
Trivia Murder Party
Players are stuck in the Saw-equivalent of a trivia game, where only one player will escape with their lives. This game is probably the best of the bunch, as it works with pretty much every type of player while being hilarious throughout. This is as close to classic You Don't Know Jack as you'll get in this package.
Fakin' It
Fakin' It is a cool digital take on bluffing board games. Each player will get the same task, except for one who is flagged as the faker. It's up to that person to try and blend in as best as possible, though the game makes it very difficult to keep your cover. Works best with larger player counts, as it's more difficult to simply rely on the process of elimination.
Tee KO
Players are tasked with making funny t-shirts by drawing pictures and writing slogans. I love the concept of the game and at times, it can be a riot. However, it does require a lot of creativity from players in terms of drawing cool stuff or writing funny slogans. You're going to need the right group of players to make this one work.
Jackbox Party Pack 3 is a solid addition to the series and one that anybody hosting a party should pick up. Most of the games work with very large groups and they're a blast to play. On the Switch specifically, you get the added benefit of portability without losing anything on the gameplay side, save for a minor hitch at times when you return to the main menu. Here's to hoping the rest of the series will make it onto the Switch too!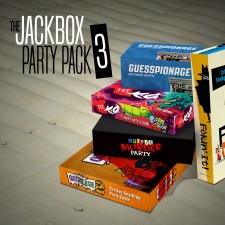 Buy The Jackbox Party Pack 3 Now From Amazon.com