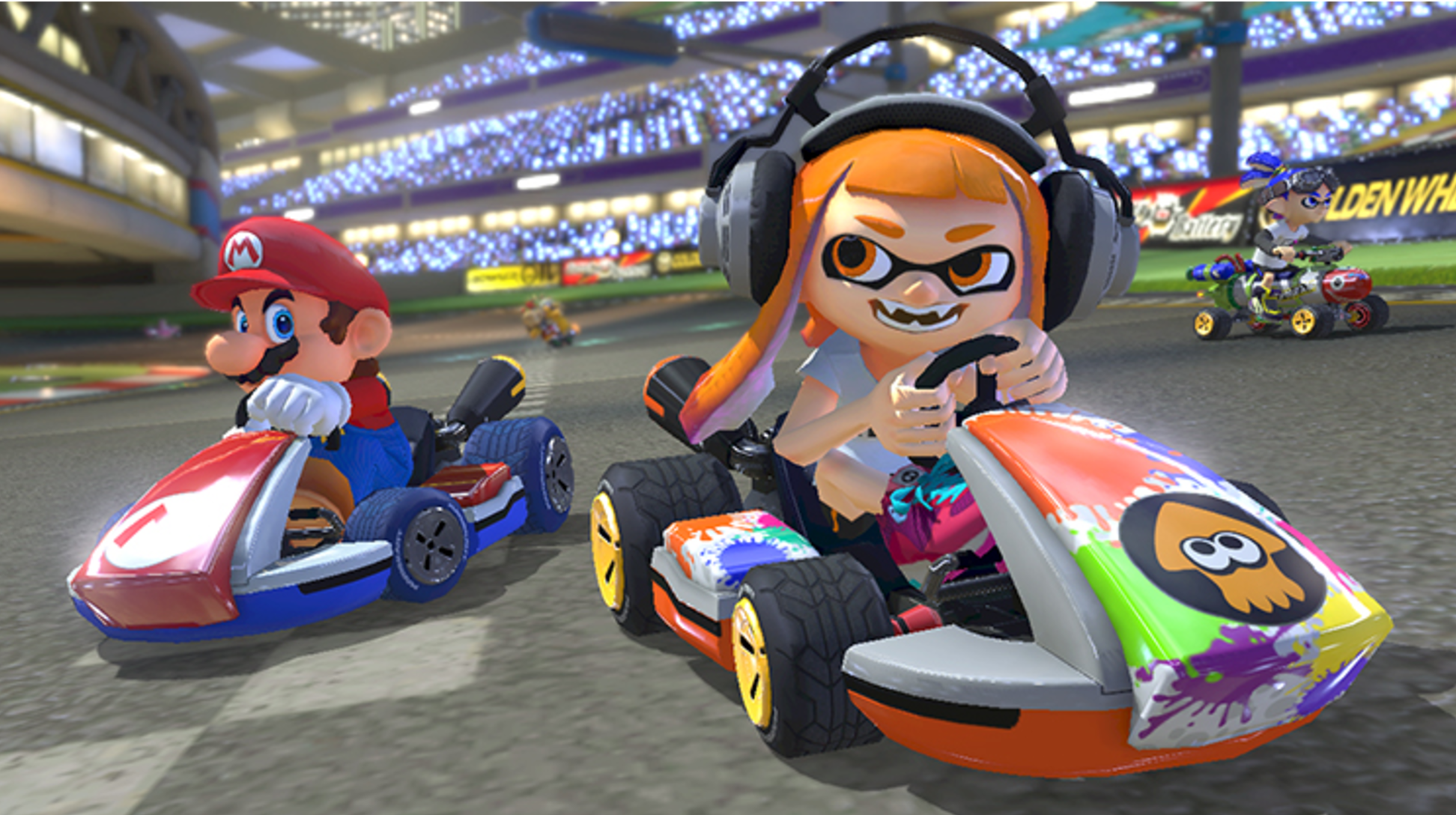 Mario Kart 8 on the Wii U almost became the definitive title in the franchise. While it stunned players with gorgeous visuals and racing that has been fine-tuned over the course of decades of innovation, its half-hearted battle mode that didn't feature battle-mode-specific tracks was the worst in the series.
Years later, Nintendo addresses this flaw in Mario Kart 8 Deluxe on the Nintendo Switch with an all-new battle mode. For good measure, the game also features all of the DLC from the Wii U, a handful of new characters and a few minor gameplay updates as well. Better late than never, as this is the new pinnacle for the franchise and the genre.
If you have played the Wii U version of the game, you largely know what you're getting into here. All of the racing excitement from the original game remains, as the ambitious and anti-gravity track designs are supported by gorgeous graphics and refined gameplay that's been decades in the making.
You're also getting all of the downloadable content that was made available for the Wii U game post-launch. This includes eight new characters, eight DLC tracks and a new 200cc difficulty. The latter is probably the most interesting development, as karts move so fast that you're going to need to use your brake much more frequently.
Furthermore, as part of Mario Kart 8 Deluxe, you're getting six more new characters and a few gameplay tweaks. I like the inclusion of Inkling Girl and Boy from Splatoon, further expanding the Mario Kart universe beyond the bounds of the Mushroom Kingdom. The game also adds the ability for players to hold two items at one time, though it didn't really seem to impact races that much. I wish you could toggle between which of the two were next in line, but that isn't an option from what I can tell. Casual players will appreciate the new driving assist options that will make it easier for them to compete. For hardcore Mario Kart 8 fans, you'll be pleased to know that the Fire Hop exploit has been removed, making races a bit more fair.
The franchise is legendary for its local multiplayer, which Deluxe delivers on in spades. Of course, you can play split screen, with two players running at 60fps and three-to-four players running at 30fps. As small as the Nintendo Switch screen can be for four-player split-screen, it's not impossible to play in this manner. You can even link multiple Switch consoles together for upwards of 8-player local action. With all of the options available to you, this is a console-quality Mario Kart experience that you can enjoy wherever you want, however you want.
Online play returns in Mario Kart 8 Deluxe in essentially the same form as it was on the Wii U. You can play with friends or strangers in races or battle modes. When everything is working as intended, my experience was great. I never found any races to be laggy, though there are times when the game will disconnect at inopportune times. What is annoying though is trying to get a party together online. One player has to open up a public lobby and the rest have to squeeze their way in before it fills up. Wish there was a way to group up before entering a lobby.
The game's major improvement comes from its battle mode. Mario Kart 8 on the Wii U cut massive corners by using racing courses for battles instead of tracks specifically designed for battling. It made for arenas that were way too big and lacked any real flow. This time, we get eight battle-specific tracks with a number of different types of battle modes. Standard balloon popping is here, as well as a few new ones.
In Shine Thief, players will chase each other in hopes of grabbing and maintaining possession of the Hot Potato. Bomb-Omb Blast is battle mode with bombs only. Coin Runners is a challenge to collect the most coins. Last but not least is Renegade Roundup, which is essentially Cops and Robbers. Personally, I prefer the classic, but there's a lot for players to enjoy here when you'd rather smash your opponents instead of sprinting past them towards the finish line.
Mario Kart 8 on the Wii U was almost the best Mario Kart game. Mario Kart 8 Deluxe on the Nintendo Switch is now the gold standard. Bursting with content along with air-tight racing and battle modes make this a must-have for Nintendo Switch owners. Even if you wore out your tires on the Wii U, the benefits of the improved battle mode and the versatility of the console likely make it worth the double dip.
Buy Mario Kart 8 Deluxe Now From Amazon.com