Celebrating its 25th anniversary, tens of thousands converged on the Metro Toronto Convention centre for Fan Expo Canada. This my 10th show and the event continues to be a highlight in my pop culture calendar.
If you've been following along on my Instagram or Twitter, you've probably seen most of what I'm posting here. But I will try and add some commentary to some of the cool things I saw at this year's show!
Video Games
As soon as the doors opened, I made a beeline to Nintendo's booth. The lines for games at this show get out of control quickly, making it a priority for me to go here first. Their feature games this year were The Legend of Zelda: Link's Awakening and Luigi Mansion 3. I have played both (!) and provided my gut reactions on Twitter, but will have more to say on those in the coming days.
Also played Super Lucky's Tale on Switch and…it was fine. Don't care enough either way to write a detailed piece on it, but the Xbox One VR game makes some smart graphical concessions to run smoothly and look good enough on Switch.
At the corner of their booth was the Nintendo Switch Lite. Unfortunately, we didn't get to hold it. But from what I saw in person, two things stood out.
Its overall size was a notable step smaller than the standard Switch. Still not small enough to fit snugly in one's pocket, but the difference is big enough for it to be a selling point. Also, the gray, teal, and yellow colours of the consoles look a touch darker and not as glossy in real life. All three look great and I would love an excuse to buy one!
Microsoft, Sony, Ubisoft, and 2K also had a presence at the show. Admittedly, I spent very little time in any of them. Between prioritizing my limited gaming time with Nintendo and not really having much interest in the other publisher's lineups, I didn't really bother. That said, I did sneak a peek at Final Fantasy VII Remake and that looks awesome. Gears 5 and Borderlands 3 were also there. Not on speaking terms with the former due to my disappointment in more recent entries, but I'll probably play more Borderlands at some point.
Lego
Lego always has a prominent showing at Fan Expo. They knocked it out of the park this year with a fantastic D. Va in the South Hall and Jason Momoa's Aquaman on the 700 level. Also, because I may never get the opportunity to gloat like this again…
#wethenorth #wethechamps
Arcade
Arcade 1Up has burned me in the past, but I'd be lying if I said I wasn't interested in some of their new cabinets. Featured at the front of the EB Games booth were their cabs for Teenage Mutant Ninja Turtles and Marvel Super Heroes. The former has the original arcade game only and not Turtles in Time. As a consolation, it does support four players.
More intriguing was their Marvel Super Heroes cabinet. Featuring Marvel Super Heroes, X-Men: Children of the Atom, and The Punisher, this one had a killer lineup of titles that I would want as an arcade machine in my house. One notable improvement over the busted one I returned was that this one featured Sanwa parts. Wish they used a Japanese-style ball top stick over an American bat top, but button presses and joystick movements felt much more crisp than the Street Fighter II machine.
Beyond the machine itself, it's a sign that Marvel and Capcom are at least on somewhat good terms in order to make this happen. Even after the debacle that was Marvel vs. Capcom: Infinite, this could mean a new entry in the series isn't completely out of the question. Please make this happen FGC gods!
Voice Acting
3D Art
One large room was specifically set up with activities geared for kids. Only meant to browse, but I spent an inordinate amount of time noodling with a 3D pen. A video of one in action stuck with me for years and I'd always wanted to try using one.
What I didn't realize until I tried it myself was that the "ink" does not dry instantly. The first thing I wanted to do was draw upwards, which doesn't really work like you would hope. If you're not drawing very slowly and straight upwards, your "ink" will lose to gravity in an instant. You can draw the individual pieces on a flat surface and then "glue" them together to create a 3D structure, but it's not at all how this was advertised to me.
Cosplay
Not long after, we found this mind-blowing Horizon Zero Dawn cosplay that I'm still buzzing about! @amuelb made this one and watching her move in it was something to behold. Shoutouts to her for knocking this one out of the park!
Art from Actual Artists
I tend to spend like a maniac at these shows, but my shopping was limited to just a few pieces of art. Above is this incredible three-piece set featuring all of the students from Garreg Mach in Fire Emblem: Three Houses. There was no shortage of great Three Houses art at the show, but I went with this because it was the only one to feature the entire squad. Thank you @ravefirell for creating this!
The other print I got was from legendary penciler and inker Scott Williams! Best known for his collaborations with Jim Lee, he signed this phenomenal X-Men piece that harkens back to their days in the late 80s and early 90s. Already have this one proudly displayed on the streaming wall and it's going to be a struggle when I eventually swap it out for something else.
Board Games

Though I consider myself to be a board gaming enthusiast, I've historically spent very little time in the board game area. I usually peek into the room to see what's new before heading back out to the show floor. This time, our group did a bit more.
In the role-playing room was a setup for a silent auction. A number of great games were up for grabs to the highest bidder. I bid on a few, but got bested at the last minute. My sister-in-law did get a copy of Operation: Kindergarten though.
We also tried out a new game that was part of a raffle. As a play on a term used to describe board games where there are many different ways to score points, Point Salad is a card game where you're literally trying to create the most delicious salad by compiling the right mix of vegetables based on the types of salads you're trying to make. I will try to write a review for this in the near future, but I will say it does get a thumbs-up from me in the immediate term.
Celebrity Panels
80s and 90s action movie star Steven Segal made his first appearance at the show this year! In one of the most fascinating panels, he has a very distinct aura about him. Wasn't afraid to speak out against those who criticized him and was vocal about Bruce Lee's portrayal in Once Upon a Time in Hollywood.
Jeff Goldblum made a short-but-sweet appearance on the main stage. Talked a little bit about his upcoming show on Disney Plus, while also singing the Canadian national anthem with us!
Will be the first to admit that I'd never seen a Brendan Fraser movie before. However, he seems like a really nice guy and the fans seemed to really appreciate his answers.
In only his third convention appearance, John Travolta made a stop at Fan Expo Canada to promote his new movie. He spoke to his understanding of what being a fan is like, to the point where he was overcome with emotion by the love he got from the crowd.
#squadgoals
Before wrapping this up, have to give my family a nod for being my party throughout the show! Thanks to my brother Randy, my wife Steff, and my sister-in-law Michelle for supporting one-another during this four-day event that can be rather grueling at times. Will take some time to rest, but I'll be glad to do this again with you next year! Realistically though, we'll probably do this again far sooner than that. See you at the next convention!
---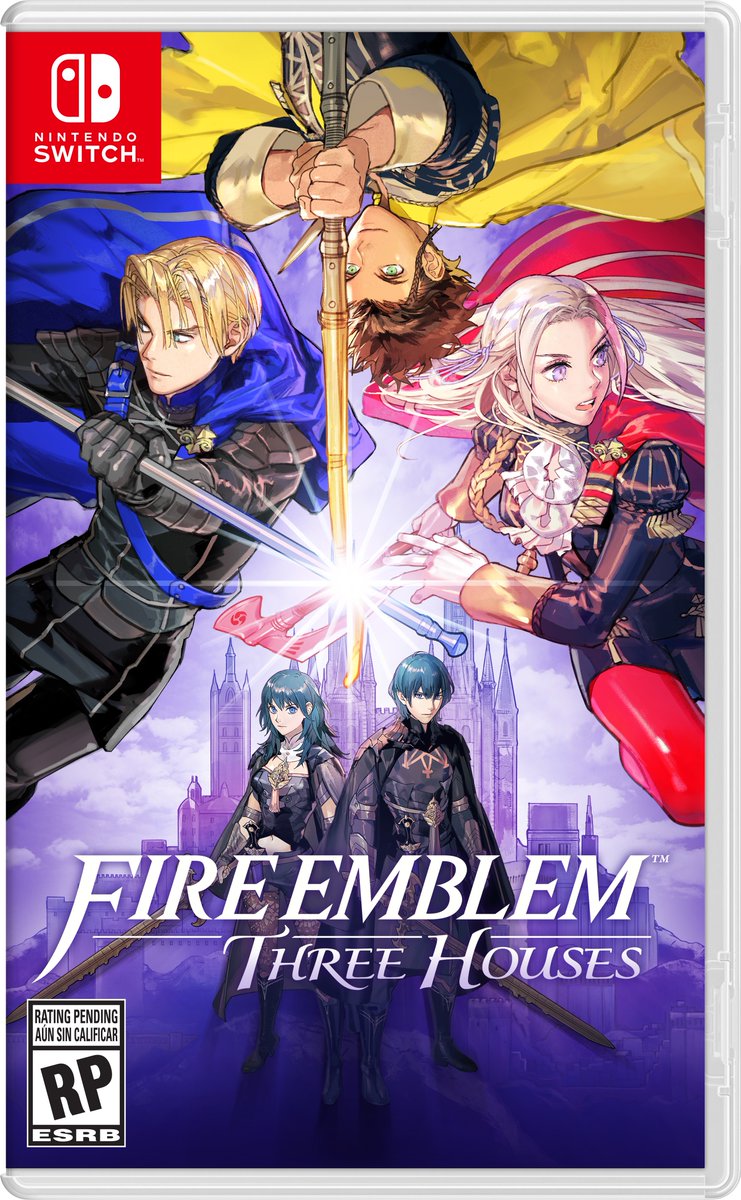 Buy Fire Emblem: Three Houses Now on Amazon.com
[Purchasing through this Amazon affiliate link gives me a small commission without adding any extra cost or effort to you. Thanks for your support!]