Rest in peace Pokemon Trading Card Game Online. Welcome, Pokemon Trading Card Game Live!
After a decade of service, the old app will be sunsetting just before the launch of this new one. As of writing, very little has been shown of the new app. Nevertheless, that's not going to stop me from weighing in on what we do know and bringing forth some questions I have about the new app!
Our existing collections will (mostly) carry over
"Your content from Pokémon Trading Card Game Online will carry over to Pokémon TCG Live on your first log in if you use the same Trainer Club account except for cards from the HeartGold & SoulSilver series." – Serebii.net
There was no way that The Pokemon Company could have gotten players to migrate to a new app if their existing collections weren't transferrable. Almost everything seems to be carrying over, which is great!
That said, a few exceptions do exist. Cards from the HeartGold & SoulSilver series will not be transferrable at all. Cards from Lost Thunder back to Black & White will be transferrable but not playable until future updates. While these are very old sets and I'm guessing their usage within the community was already minimal, it's a shame that we're losing some of that content completely.
Furthermore, unopened booster packs and chests from Pokemon TCG Online will not directly transfer over. Instead, you'll be given the option to convert your unopened packs into Crystals, one-of-three new forms of in-game currency (we'll get to this a bit later). While it remains to be seen exactly what you can get for your Crystals, you're going to have to make a decision on what to do with your packs before migrating to the new client. Do you open them? Trade them for cards that will migrate over? Or convert them into Crystals? You should have a better idea of how to approach this as we learn more about what we can get for Crystals.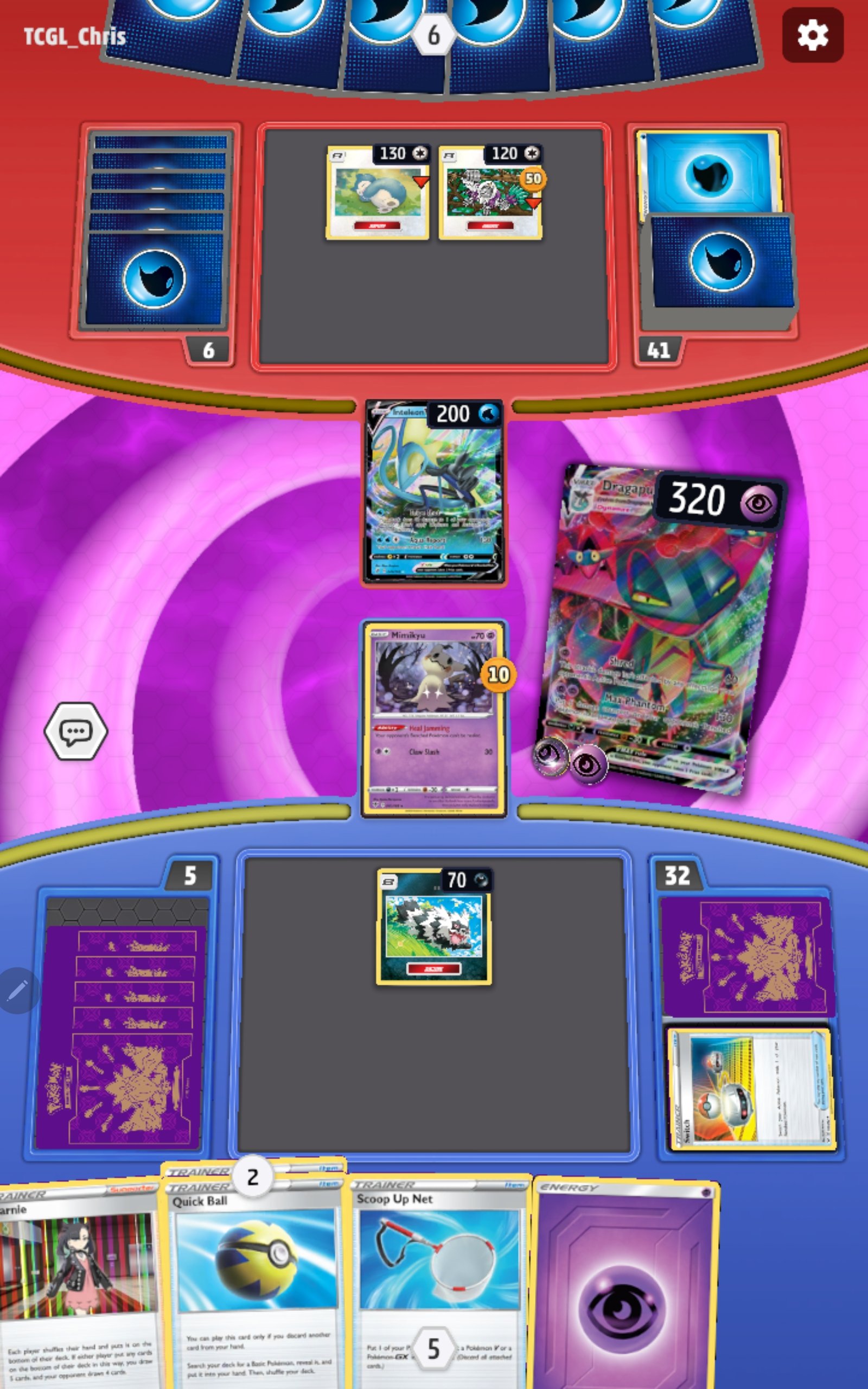 Mobile support is finally here
After going a full decade without an official way for players to play the game on mobile devices, Pokemon TCG Live will finally allow us to play on our phones.
Based on what we've seen of the mobile version, I think it actually uses the space it has more efficiently than its desktop counterpart. Fingers crossed that the interface works well for mobile play, as a good mobile version would broaden this game's horizons to a whole new level (while also crushing mine by virtue of being able to play it anywhere).
Mobile support is fantastic, but there's still one more platform in question. Will we finally get a Nintendo Switch version?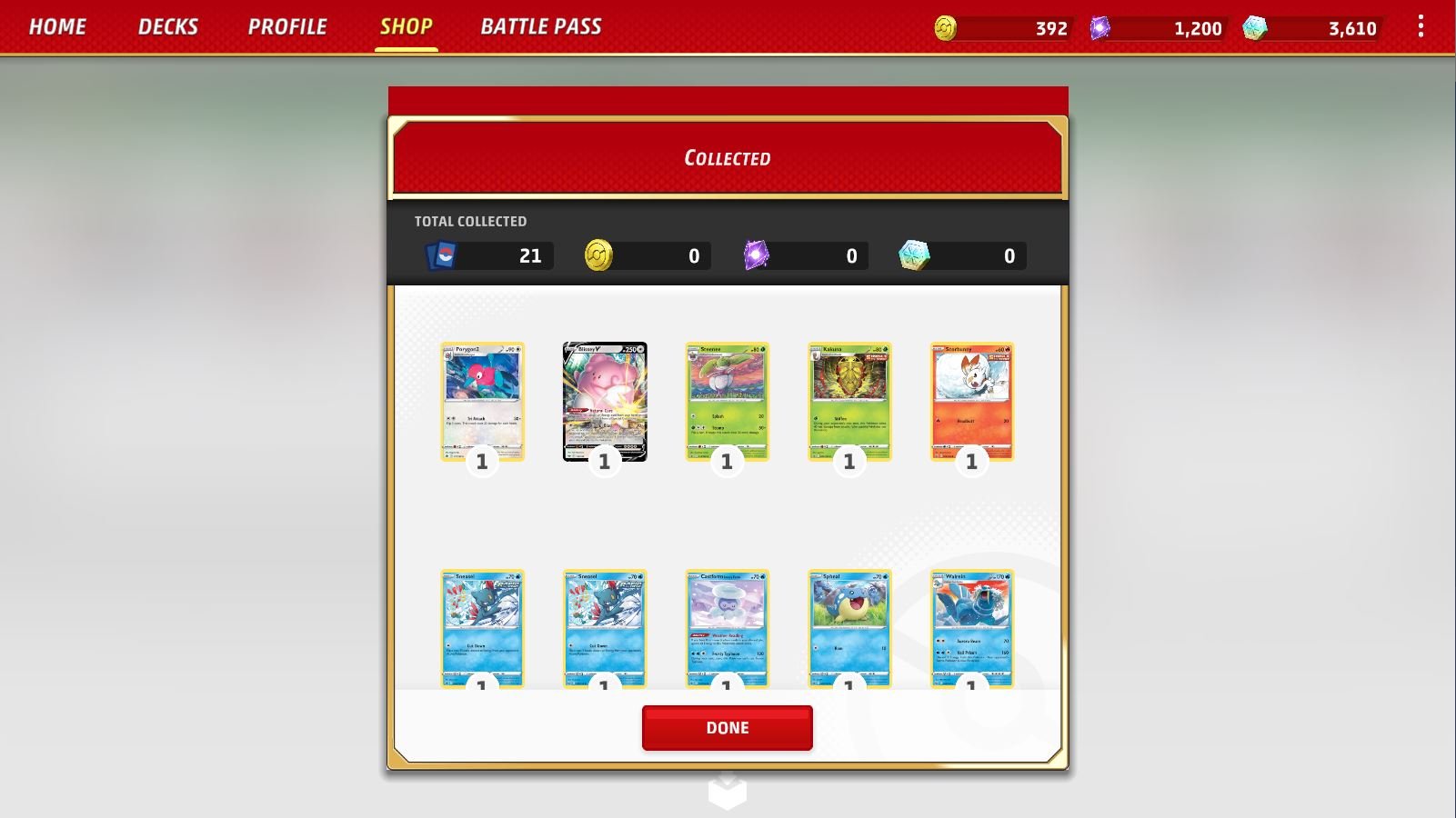 You will have the ability to unlock specific cards
There was no easy way to simply get or unlock specific cards in the old game. You either had to get lucky through a booster pack or trade your in-game assets with another player. The latter option was a bust when it came to the most in-demand cards, as players wouldn't give them away even if you offered hundreds of booster packs in exchange. From a player's perspective who happens to have the best cards in the game, why would I give them away at any price? This opened the door for really sketchy sellers on eBay to sell digital cards at a premium and complete transactions through the game's trading system.
In Pokemon TCG Live, you don't have to go through that hassle of trading or engaging with the sketchy gray-market for specific cards. Instead, you can unlock cards through an in-game currency called Credits, which can be earned by transferring cards you don't want or achieving in-game milestones.
Will be interesting to see how they price these items and if real money is involved. Nevertheless, having an in-game solution to unlocking specific cards is a great step forward for the game that helps to bridge the gap between the haves and have-nots.
You will not be allowed to trade cards in Pokemon TCG Live
Being able to unlock cards is technically an alternative solution to trading. However, I'm very much going to miss trading. While I won't necessarily miss trading with strangers, it stinks that I won't be able to trade with my friends.
With trading having been the backbone to acquiring specific cards for ages, I really hope the new unlocking system is ultimately better. At the very least, it's far less sketchy than buying booster pack codes off of a third-party site and flipping them through the trading system or exchanging money on eBay to coordinate a card transfer. We may need to come back to this topic to discuss the ramifications of losing trading once we see how difficult it will be to unlock new cards.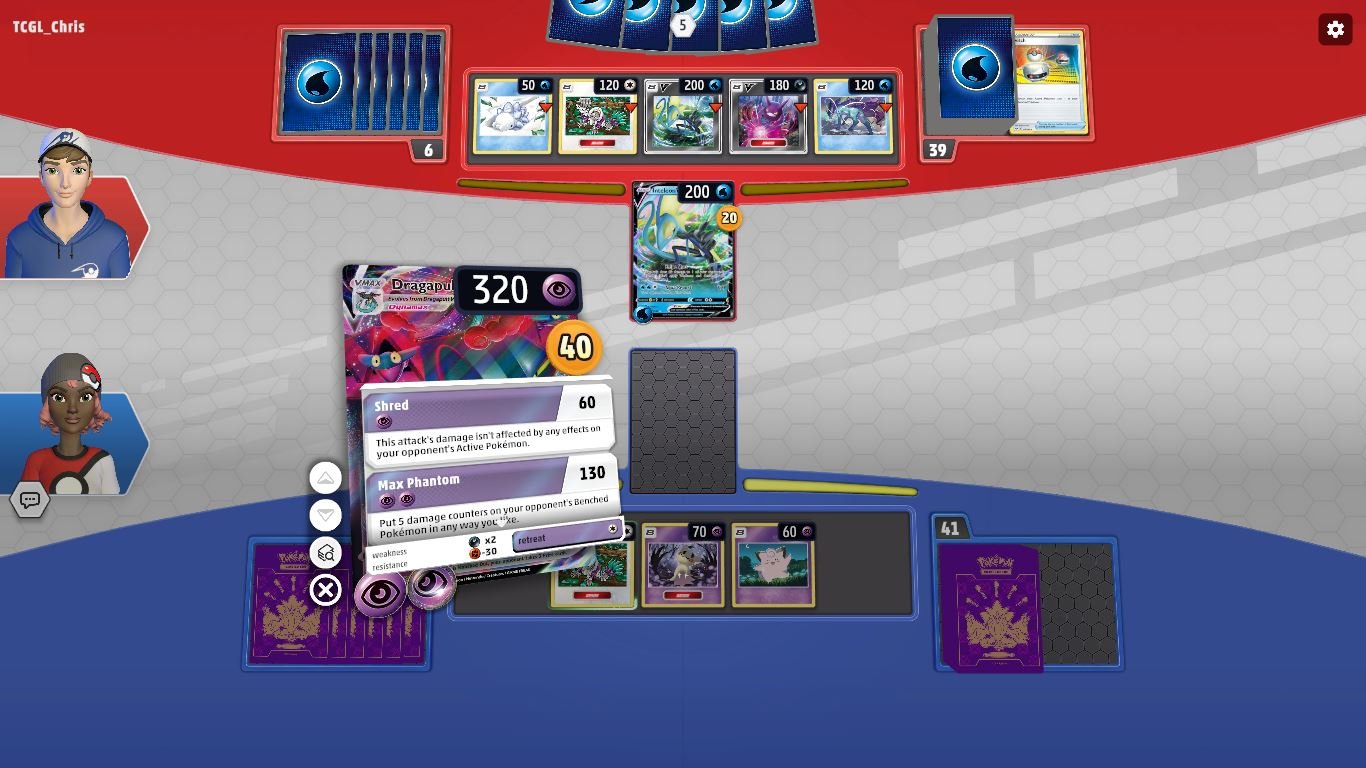 I'm not a fan of the new gameplay design
Kudos to the team for creating an interface that at first glance, at least appears to be functional on a phone in portrait orientation. However, I have my misgivings with how that design is adapted for wider screens. Based on what we've seen, it feels like the design has too much empty space and the actual cards and menus appear too small. Furthermore, the middle area being used to show elemental effects feels overly-distracting.
Maybe I'll get used to it. Maybe there will be options to adjust the ratios. Maybe the graphics will be updated before launch. I'm not necessarily against the idea of the design going away from simulating two players at an actual table, but this particular design feels a little heavy on flash and light on function.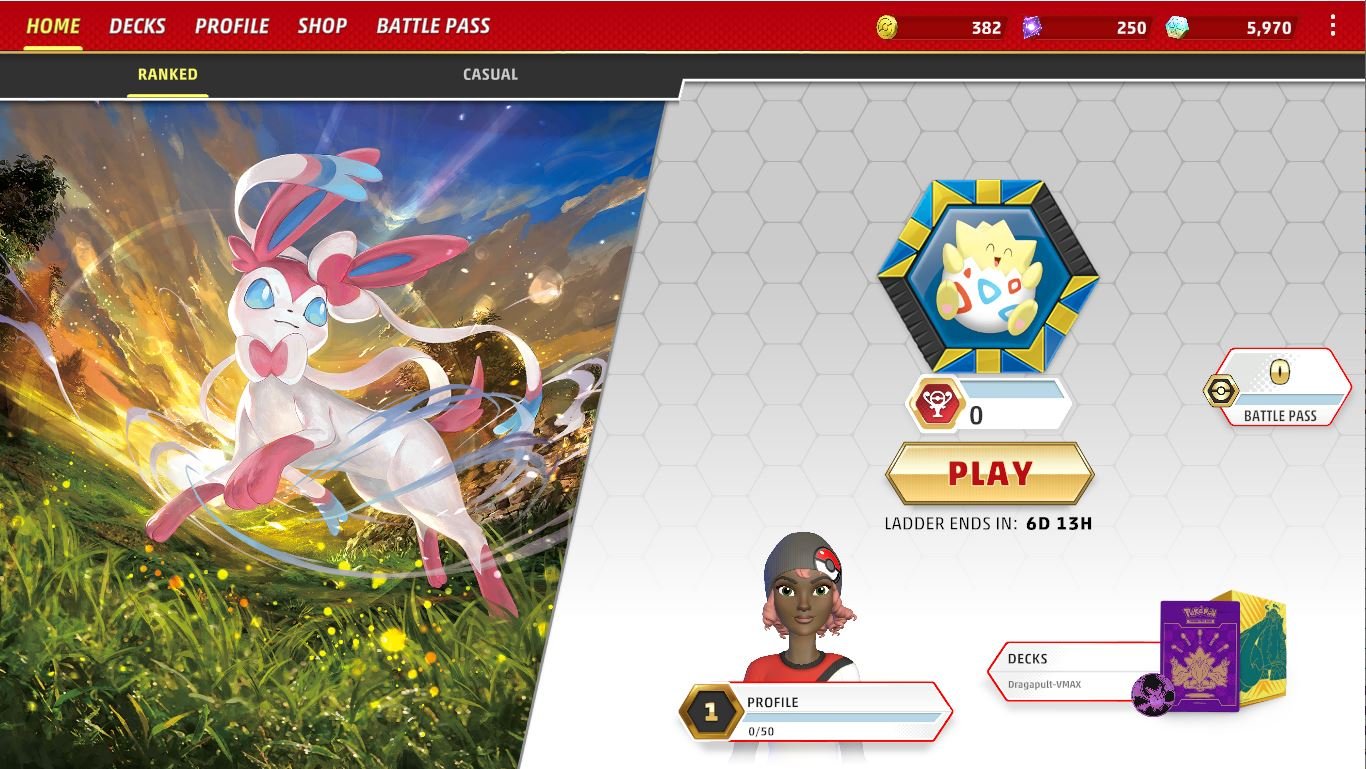 Ranked play is coming! But at what cost?
On the FAQ page, The Pokemon Company makes mention of the game including a Ranked Ladder. This is amazing! As it stands now, there's no way of seeing where you stack up relative to the rest of the world. Having that ranking system will give players more reason to compete.
That said, Expanded play will take a hit in the short-term by virtue of some cards not being supported until future updates roll out. Also, there's a massive question mark surrounding Theme battles. While the cards will carry over, will there still be a space for those decks to compete against one another? The screenshots we've seen so far don't show it. Considering how The Pokemon Company stopped making new Theme decks in that style at the end of 2020 and how players can now unlock specific cards, Theme battle may go by the wayside as they give players the means of getting cards to help them compete in Standard or Expanded.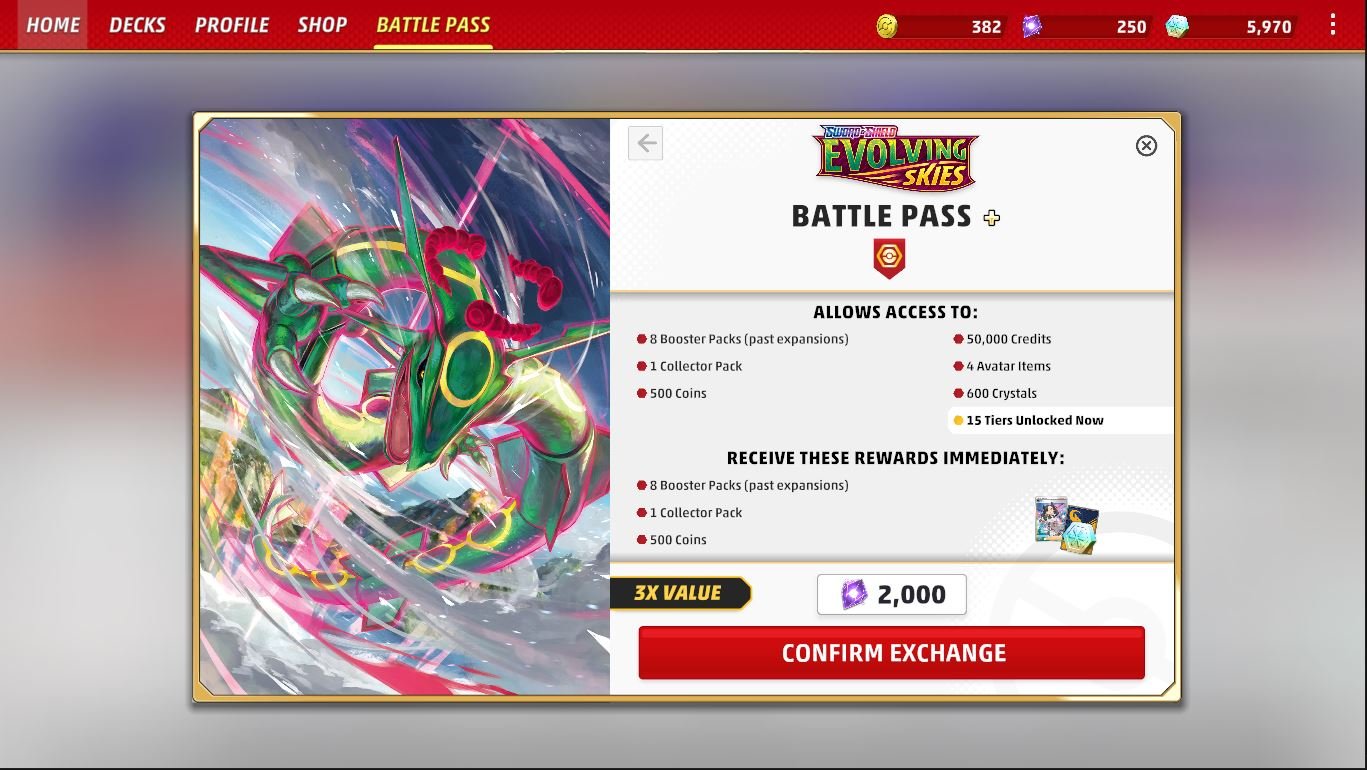 Does this game have in-game microtransactions with real money?
We know that the game has three different types of currencies. From serebii.net:
Coins – Earned through quests, leveling up and more. Can be used for avatar apparel & emotes and deckboxes & sleeves

Credits – Transfer up to 4 copies of a single card, 1 copy of an ACE SPEC or Prism Star, 1 copy of each part of a V-Union or 59 copies of Energy from your TCGO account. Additional copies converted into credits which are then redeemable for single cards. Credits are also achieved for hitting milestones

Crystals – Earned by competing quests, they can be used to buy booster packs, promo cards and special bundles for cards. Can also be used to upgrade the Battle Pass to the Premium Pass
There is also a battle pass that can be upgraded through the exchange of Crystals. However, we still haven't seen any references to real money in exchange for in-game cards or other perks. I'm totally okay if microtransactions aren't included in the game, but it almost feels like an inevitability? With the way that the old game worked, it left a ton of money on the table by not having any sort of microtransactions while also fostering an entire gray market of sellers exchanging digital goods for real money on other platforms.
Will Pokemon secure the bag? I think there are a lot of arguments one could make for either side. We'll find out soon enough!
---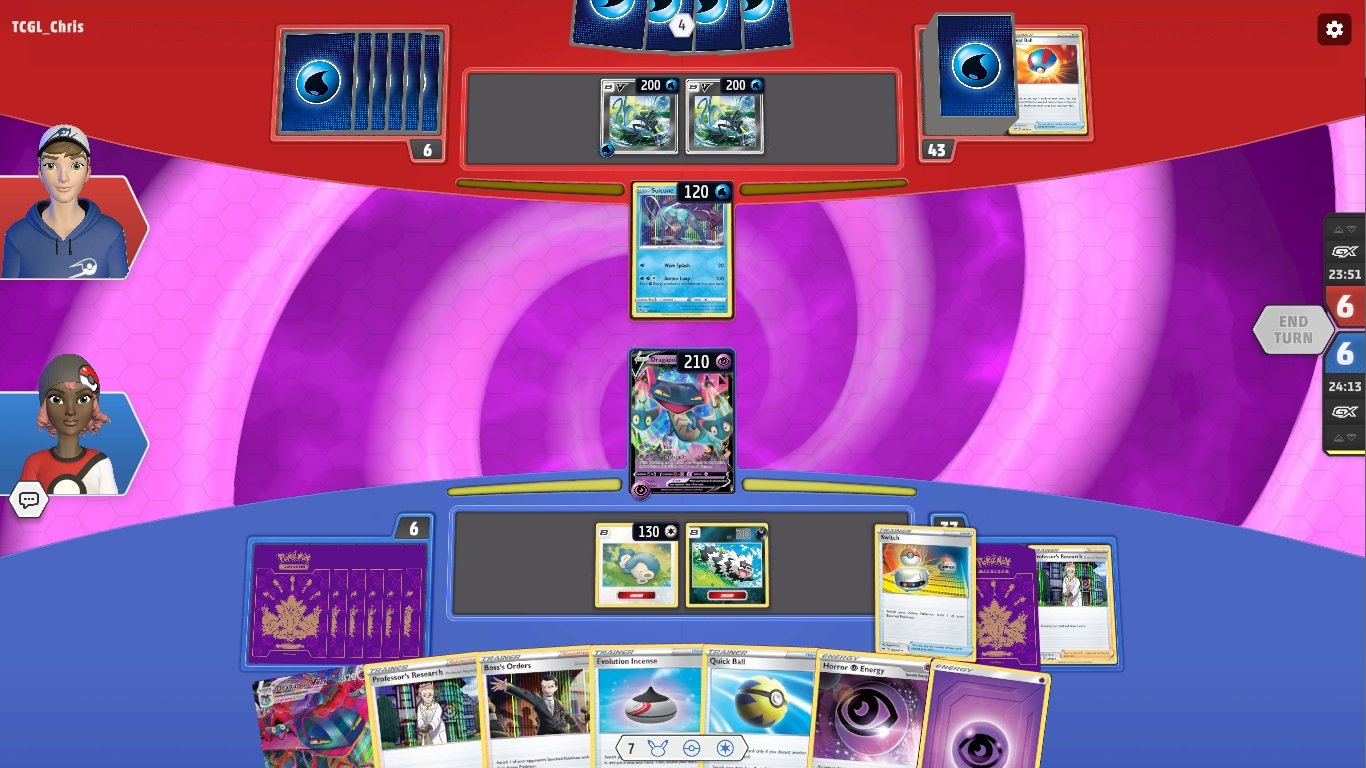 A new era in the Pokemon Trading Card Game will begin with the launch of Pokemon TCG Live. Though I'm still fairly new to the game, there are clearly aspects of the old app that were in need of fixing. This is the perfect opportunity to make the game better at a foundational level while paving the way for it to grow over time.
For more information, check out the official FAQ. And of course, I'll circle back on this subject as we get more info!
---
Buy the Pokemon TCG Battle Academy Now From Amazon.com
[Purchasing through this Amazon affiliate link gives me a small commission without adding any extra cost or effort to you. Thanks for your support!]