How do you keep a conversation going for hours at a time? This is a challenge that many streamers face, especially since most of the time, they're in a room by themselves with no one to speak to voice-to-voice. Having experience as an on-air radio personality, I've taken this aspect for granted in the past. I know I can speak eloquently and have a few cool stories to tell. However, more often than not, I had a good 10 minutes of material in me before dragging on the stream for another two hours with nothing to say.
Even when streaming to an audience of 0, it's still important to talk to yourself. Your next fan might be the person who watches the VOD after the fact. I get a number of subscribers on Twitch and YouTube that way, so I know this phenomenon is real.
As someone who isn't going to wow most viewers with his top-tier gameplay or handsome looks (lol), what I have to say is the most valuable thing I have to offer. Of late, I've taken steps to try and have more to talk about. Maybe some of these conversation starters can help you keep your stream engaging for all involved!
---
My history with the game/series/developers
At the top of every stream, I like to provide context for why I'm playing that particular game by providing my history with the game/series/developers. As a Street Fighter fanatic, I could fill an entire stream just talking about my history with every game in the series. Though I'm not a life-long Pokemon fan, I do have a lot of stories to draw from about how I shunned the series for a long time before finally giving it a chance in my adult years. Even for brand new IPs, I try to talk about how I first learned about the game, my excitement leading up to its release, and past works from that development team if I've played any of their games before.
---

Early impressions of what I've played so far
If you're playing a game for the first time, it's probably too soon to give viewers a review of the full experience before you've completed it. That said, I think it's fine to give users quick check-ins on your thoughts of the game in question. Am I having fun? Was that last level too hard? Is my character's movement a bit too slippery for my liking? In particular, any feedback you can provide that viewers can't immediately see on screen goes a long way towards bringing viewers closer to the experience.
---
Share my moment-to-moment thought process and feelings as I play
This is where I go during more intense moments or when I'm drawing a blank on things to say. It sounds simple enough to say things like, "I'm going to walk over here and hit the button," but again, it helps brings viewers closer to you. I especially like watching other streamers do it in fighting games, where I can hear directly from them how they're going to deal with a particular challenge.
In Tetris 99, I think that letting viewers know when I'm excited, scared, or not scared at all in spite of the blocks basically touching the top adds a lot of valuable information that the viewers may not see as I stare blankly at the screen while stacking at lightning speeds. Certain games lend themselves to this better than others, but try and find interesting ways of describing your approach to playing the game as you play it.
---
Bring up news and hot discussion topics as conversation starters
This is the aspect of my streaming experience that I want to improve at the most. I follow gaming news religiously and it serves as a great conversation starter, especially when the news is related or tangentially-related to the game being played. However, I have the memory of a peanut. By the time the stream begins, I've already forgotten a day's worth of gaming news. For the last few weeks, I've kept a physical notebook on hand where I write down everything that could make for a great conversation starter.
Doesn't have to stop at gaming news, either. Most viewers have interest in other subjects beyond gaming, such as pop culture, sports, literature, current events, celebrity gossip, and more. My experience preparing for radio announcing got me into the habit of reaching wide for things to discuss, so I try and write down anything that I or my audience might find interesting to talk about as well. Can't speak for others, but oftentimes, the most interesting conversations that happen on my stream have nothing to do with video games. You never know!
---
Show your personal side
While being mindful of your own privacy, show viewers who you are and where you came from. I like to share some of the recent experiences I've had throughout the week, finding ways to frame them as interesting discussion points. Oftentimes, actions in the game or conversations with the chat will spark related or fun memories that are worth sharing. Even when the stories aren't related to the games you're playing, it gives viewers more to connect with. I've found that some of the best experiences I've had on stream come from being able to reach viewers on this level, which often doesn't happen until I go beyond the game I'm playing.
---
Ask questions to those in the chat
I'm still a small enough streamer where I don't always have an active chat. Heck, there are still moments where no one is watching me at all. But when I do have an audience, I lean heavily into audience participation. I do this by asking lots of questions, especially if it's someone visiting the stream for the first time. It's a way of starting a conversation with someone new while getting to know them better. Some of my go-to questions are:
What's your history with the game I'm playing now?
What are your favourite characters/aspects of the game I'm playing?
What are your favourite games?
How's your day going?
What are you playing nowadays?
From there, who knows where the conversation will go. But keep it going!
---
Keeping a conversation going as a streamer is an incredibly tough job. You're talking for hours, in an environment where there are no other human beings in the room with you. Sometimes, there's no one online watching, either. But your voice is your most important tool for making connections with viewers.
This isn't a one-way-street either. The most satisfying part of streaming for me are the conversations I have with you. Your ideas, thoughts, and perspectives on the world enrich my life too. As long as I can continue to facilitate that dialogue, let's keep the chat moving!
---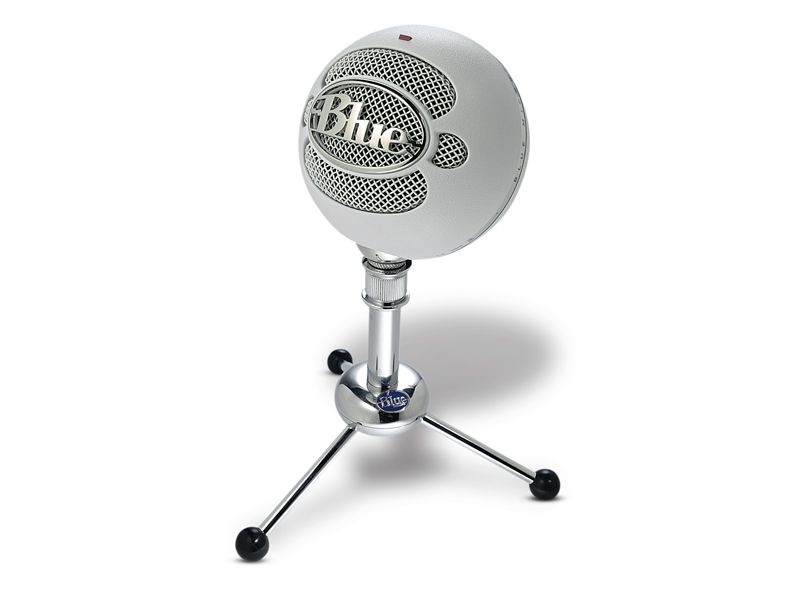 Buy the Blue Snowball Ice Now From Amazon.com
[Purchasing through this Amazon affiliate link gives me a small commission without adding any extra cost or effort to you. Thanks for your support!]