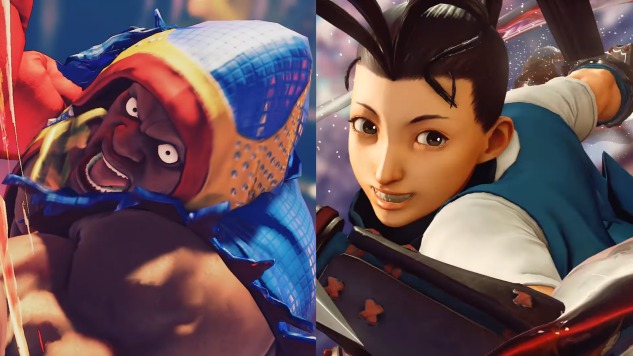 The last few months have been rather sad for Street Fighter V fans thanks to Capcom missing their deadlines for content updates, but they repay it in kind today with the biggest update yet! We're finally getting a Story mode that the game is sorely lacking, daily challenges, two new characters, two new stages, the store and more!
One of the biggest criticisms that the game has faced since launch was that its single-player content was abysmal. The addition of Story mode should help. Lots of cinematics tie the matches together, which I hope provides a Mortal Kombat like experience while adding more depth and personality to the roster.
I'm most excited for the two new characters. During the end of my Ultra Street Fighter IV run, I played a ton of Balrog. He looks amazing so far and I can't wait to get my hands on him. Ibuki was never my cup of tea, though I really like how she's shaping up in this game, especially with her bomb move.
Since the paid store will be releasing at the same time, none of these characters will no longer be freely accessible. I'll gladly fork over 200,000 Fight Money for Balrog and Ibuki, though I think Alex and Guile can sit on the shelf for now. It sucks that they're not free anymore, but I'm glad that Capcom can finally start generating some incremental sales off this game that will hopefully prolong its life.
The update will also come with two more premium stages and costumes. One is a remake of Balrog's Vegas stage, which looks fantastic. The other is a slick beach stage where fights will actually get their toes wet. Maybe more intriguing to me is Karin looking hot in that bikini costume, meaning that a beach set of costumes could be on the way. Who else is excited for Birdie in a Speedo?
For all of the flack that this game has received since its launch, the core aspect of combat is the best that it's ever been. It's awesome to see now that Capcom is finally fleshing out the package with more content, even if it is late and some of it is going to cost you your Fight Money. If Street Fighter V has fallen out of your rotation, maybe this is the update that will bring you back!

Buy Street Fighter V Now From Amazon.com