Late last year as part of the Overwatch 2 reveal, Blizzard showcased a new level based on the city of Toronto. Truthfully, this tidbit of info was more exciting to me than anything else shown that day. As a T-Dot native, seeing the city brought to life in one of the world's most popular games was a nod that felt incredibly overdue.
Maybe my bias is showing, but Canada has always felt underrepresented in the world of gaming. Even so, Canadian locales and characters have found ways of making an impact on the greater landscape. Ron't be a hoser and come with me on a tour through Canada in video games!
Celeste
Heralded as one of the best games released in 2018, Celeste is a brilliant platformer with an incredibly positive message regarding mental health. Though it's unclear whether the protagonist Madeline is of Canadian descent, the game takes place on a fantastical version of Celeste Mountain in Vancouver, British Columbia. The game could have taken place at any snowy mountain, but I love being able to claim this wonderful game for the True North.
Scott Pilgrim vs. The World: The Game
Based on the comic of the same name, Scott Pilgrim vs. The World: The Game was a surprisingly good beat-em-up. Much of its success as a game can be credited to it lifting its framework from River City Ransom, but that's neither here nor there. Though the game takes place in Toronto, the only thing that vaguely resembles the city is that the colour scheme of the bus in the game matches the TTC busses IRL.
Until Dawn
Another game taking place in the snowy mountains. This time, we're at Blackwood Mountain in Alberta for Until Dawn. Following the harrowing tale of eight young adults on vacation, this interactive drama is one of my favourites in the genre. As for its "Canadian-ness"? Besides the snowy setting, we can't expand on its credentials without going into massive spoiler territory.
Abigail in Street Fighter V/Final Fight
Though we first saw Abigail battling Mike Haggar in Metro City, this Final Fight adversary turned Street Fighter world warrior is actually a Canadian citizen. Or is he? During his beat-em-up days, it was stated that he was from the Netherlands. But by the time he got to Street Fighter V, his passport stated he was born in Canada. That said, he did shape his hair into a maple leaf. Doesn't get any more Canadian than that, eh.
Bear Hugger in Super Punch-Out!!
Making appearances in most Punch-Out games, Bear Hugger is a burly boxer with a stomach of steel. Best protect your dome, as he'll crush your skull with an illegal two-handed strike. With multiple games drawing from brutish Canadian fighter archetype, I'm truly curious as to where it comes from. Can we get someone like Georges St-Pierre or even a Bret Hart?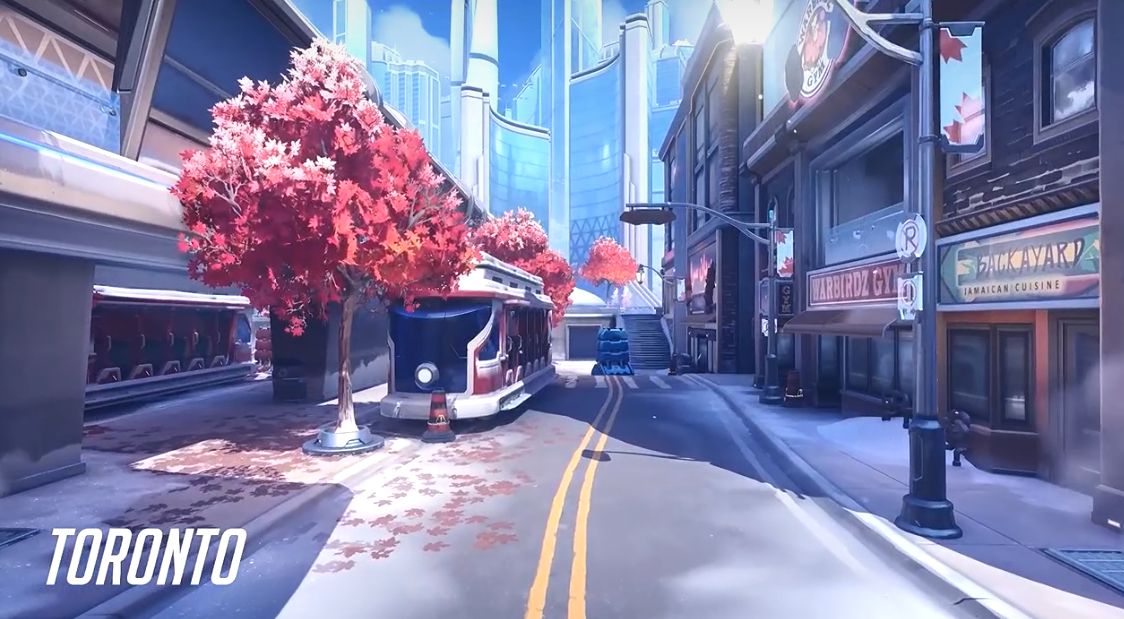 Toronto Stage and Sojourn – Overwatch 2
The inspiration for this post, seeing my city rendered out this way feels long overdue. Even though it's a futuristic depiction of The 6ix, it captures many aspects of the city, such as the curved buildings that make up city hall, the flatiron building, and street cars in the TTC colour scheme.
One part of the whole thing that infuriates me though is the prominent statue of the hockey player. Yes, Toronto is very much a hockey town. But uh…we don't really have any statues of hockey players in the city.
As part of Overwatch 2, we're also getting our first Canadian character in Sojourn. Little is known about her, but from the bits we've seen, I think she looks awesome.
---
Buy Overwatch Now From Amazon.com
[Purchasing through this Amazon affiliate link gives me a small commission without adding any extra cost or effort to you. Thanks for your support!]